Creative Services in branding, design and online creativity
360º
The BRANDING strategy is implemented within the several areas of a company or brand. No matter if it's a company that offers products or services. Your clients or consumers will estimate and value your product from a visual perspective. All this visual experience is delightfully managed by the Branding Strategy. Starting from the brand creation itself (Naming, Logo design, Visual Theme, Creative Concept, Character and other perceptive senses) to every aspect of your product (Aesthetics, Packaging, Advertisement, Promotion, Social media communication) every contact point with your customer has an image.
We provide creative value to every aspect in your brand, product or communication, providing it with design and global vision to any visual asset of the brand strategy development and communication. By focusing on delighting your consumers and  keeping your brand in the top of mind, just when they are making a choice, BRANDESIGN will make innovation and creativity of your product and service  be remembered as valuable.
Our Creative Services
BRANDING
Brand and Corporate Identity Design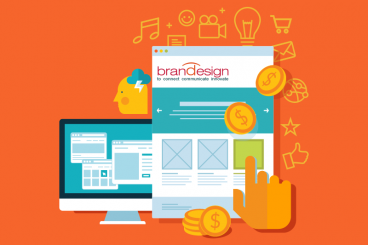 MARKETING
Creatives and Marketing Campaigns
Information Technology
Information Technology Projects
Branding is not only a logo design, that's just the tip of the iceberg.
At Brandesign we build brand profile designs, communication strategies and identification beyond the visible. We study every aspect that links the brand with its consumers to respond with a wide range of experiences where the brand has a positive impact on the product and your consumer.
A good marketing strategy starts from the definition of a campaign and media selection, through the execution and implementation of each one of its parts.
All in perfect harmony potentiates the advantages that each part offers and avoids reapplying ways to adapt. At Brandesign, we produce online and offline campaigns in order to achieve creative goals.
The company information in the web field also requires design to be a tool to graphically dress up the study of its structure and usability.
At Brandesign, we help you to communicate, to work closely with developers code to code, so the information can efficiently reach the users..
---
Branding and Design Agency
Where do you want to make a difference?
The range of options you have to create BRANDING are many and varied, they are all those sensorial experiences in which you want to mark a positive memory or positive value over an asset of your product.
We talk about brand strategy, when we study each shopping experience (or user experience) and translate the aspects we want to highlight in a perceptual code with equity values we want to record in the customer's subconscious in order to recognize this experience as a valuable asset of the product or service.
We want to position these values on the product either by its color, form, smell or sound. At Brandesign we draw these strategies based on the Brand Equity Choice Wheel American model. There are no recipes or formula, each brand is studied in a particular way.
We study from the name the product should have to the language in which it must be expressed.
NAMING + SUBNOMENS
COLOR CODE
FONT FAMILY
DESIGN THEME
BRAND EQUITY BUILDING
BRAND BOOK
LOGO DESIGN
---
CREATIVE CAMPAIGNS
We produce online and offline creative campaigns.
We know close enough the means to know what works on each support. From the animation of flash banners for display campaigns (modalities CPC, CPM, CPL) to expandable banners with video on RichMedia, landing pages for performance marketing, email marketing and social media channels personalization. From creative line design to the technical implementation on supports and channels.
Print and impressed on paper or pixel.
Creative conceptualization.
Art Direction.
Direct marketing tools: flyers, brochures, catalogs, brochures, etc)
Graphic design posters for: Ads (magazines and newspapers),
Online creativities (display): Richmedia, Flash Ads, Newsletter, HTML5.
Email marketing: from designing your email or newsletter to linking it to the landing page and sending the report about click performance.
---
SOCIAL MEDIA CREATIVES FOR LOCAL MARKETS
BRANDESIGN moves like a fish in the water through social networks and not only can take care of "catching the fish for you," but "teaching you to fish" aswell.
We can make your brand to gain visibility in the media where your consumers are through planning a set of creative material thought for every type of consumer / user / product or brand asset. Being present on the media it will keep you on the "top of mind" and gain loyalty with your target.
.
Monitoring your brand.
Optimization Profiles.
Community Management.
Communication with Online Influencers.
Monthly Reports.
---
ONLINE MARKETING SEO + SEM
From the configuration and deployment of your channels (theming, design) and content creation, to specific campaigns with their respective results report.
We optimize your campaign budgets, creativities results and Google Adwords.
Initial Setup
Creative conceptualization
Campaign design
Campaigns and audience segmentation
Google AdWords campaigns
Oriented to your results:
CPM / CPC / CPL / RTB
Monthly Reportsg
Tips about:
Networking SEO + Web
How to Monitor your brand
Managing your reputation
---
RETAIL EXPERIENCE & IN STORE MATERIAL
We can strengthen the stopping and closing power at the point of sale! We design communication pieces intended to make a recall of the campaign that has the product at the same moment and place where purchases are made: The supermarket.
.
IN STORE MATERIAL
Price Tags
Shelf stoppers
Product Displays
Mamut (end of isle)
Ribbons (Bands)
Vissual floors & stickers
---
PACKAGING AND LABELING
Packaging and labeling design
The product also matches with the brand's visual communication principles and strategies. The brand equity that is generated when the consumer makes direct contact with the product is a very important opportunity to build a direct relationship between the consumer and the brand (FMOT).
From the design of a tag (label) to the product aesthetic itself. Intended to communicate characteristics and to differentiate between its own products range (tiers) as well.
Household Packaging (front, back & side panels).
Labeling (packaging, labels, tags). Product
Aesthetics. CD covers & Jewel Cases Packets,
Sachets Promo Packs ribbons, Shipment boxes.
Boxes, cans, labels, etc.
We have professional 3D modeling for the production of dummies (mockups) and virtual shelves.
---
INFORMATION TECHNOLOGY
INFORMATION TECHNOLOGY DEVELOPMENT
The more expanded and diversified the internet has become the more we have learned and grown with it. We design and develop applications and websites aimed at whether reducing the number of clicks in order to reach the critical information or monetizing the established goal. From illustrating pieces of stories on digital supports to the development of online stores and websites with organic positioning criteria and multiplatform flexibility (responsive design).
Web Design and web development.
Design and development of WordPress sites.
Online Stores (eCommerce) with Prestashop.
Design GUI Graphic User Interface.
Creating pages and microsites.
Illustrations and infographics.
iBooks authoring.
SEO positioning.
Mockups for mobile applications.
Illustrations and graphics optimization for Apps. UI UX
---
Our Clients
They trust in Brandesign
In Brandesign we know that the most important thing is the satisfaction of our customers and the achievement of their objectives with their customers, users or consumers. It is for this reason that our commitment is to offer a creative service under work processes to ensure the quality of our work in an efficient way to exceed your expectations.